Bronze edition AP1/2
Height 25 cm

The worker is a symbolic reference of man overcoming the confines of nature. Physically mastering the world and shaping it to his will. A crucial building block of society.
3450 euros
* The AP (Artist's Proof) of a bronze work is a personal – usually more refined – working model of the artist, used as a base to produce the larger edition.
We accept cryptocurrency (BTC or ETH)
"This figure had to convey a very hands-on physical intent. The hands are simplified block forms connected to a drill striking and shaping the material under his feet. His face is stern and cold. Eyes downward applying concentrated gaze on the task. I took inspiration from the incredible work of Jacob Epstein who made the most amazing sculpture entitled 'Rock Drill'. I have always been a huge fan of that work." – Fen de Villiers
Sculpture in process: sketch and clay model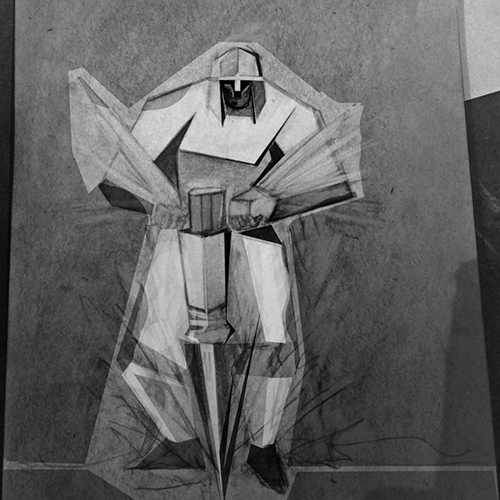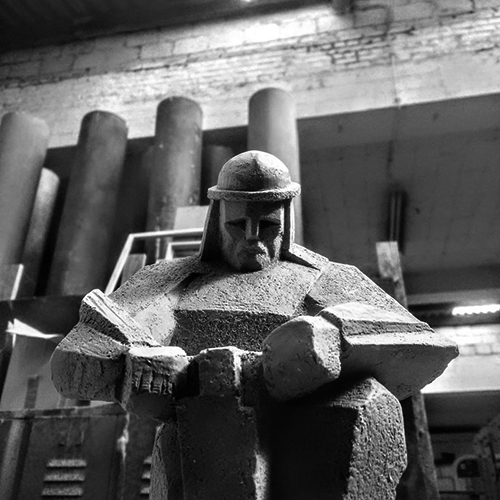 This work was featured in Fen de Villiers' 2018 exhibition 'Monumentality'.
Monumentality happens in the mind. Actual size is of minor importance. In our imagination something very small can possess an enormous grandeur. What matters is that every monument embodies an element we want to keep alive. A story we want to remember forever. Fen de Villiers seeks to display universal strength in his work. His sculptures form mental touchstones around aspects of society he feels should be monumentalised. He stresses the necessity for these elements to be contemplated and gazed upon, a process he calls 'aesthetic consumption'. The sculptor guides our imagination through the work. He invites us not only to consider the setting and motivations of the figures, but also the places and historical events they dwelled within. Fen translates archetypal subjects into powerful or even heroic images, although always wishes that the viewer can find his own interpretation. (Monumentality by Fen de Villiers publication, 2018)
How to collect art work from the online gallery?
1
Contact us about the work you are interested in.
2
We plan a viewing appointment in Antwerp or online.
3
Pick up your art work in Antwerp or have it delivered after payment.