Passionate for the physical.
Hands on with the material.
Growing up in the beautiful hills of Scotland and coming from a family of artists and sculptors I have always been right in the very center of nature and the creative atmosphere. You could say my destiny was already set in motion before I was  fully aware.
In my early formative years I quickly found my calling, my parents provided me with Plasticine and lots of it. Minutes turned into hours and time passed quickly as I sculpted my world of characters and shapes which fascinated my developing mind.
It quickly dawned on me how intuitive and direct the hand on material response was, it allowed me to express my inner feelings and thoughts. A slight pull or  twist of the material allowed for another expression or feeling to be communicated – this captured me deeply.
In time the Plasticine was replaced by clay, stone and bronze but essentially the primal and archetypal act has remained the same, as has my burning fascination with form.
The general approach to my work comprises elements based on classical and modernist views and concepts. Sometimes paralleling or merging of the two. It plays on these divergent views of man's place, whether in nature or societal role.
Style and influence come from different quarters, looking at Russian Constructivism, British Vorticism and Bauhaus with a purist formalist approach. It's important to look back to go forward. I search an "Archaic Futurism" or the bringing together of the Archaic with a Futurist aesthetic expression.
In essence I am seeking harmony and balance within form. This is my fascination, the rhythmic play as one line or element communicates to another. The eye dances from one shape of the sculpture to the next, playing to the music of the spacial composition.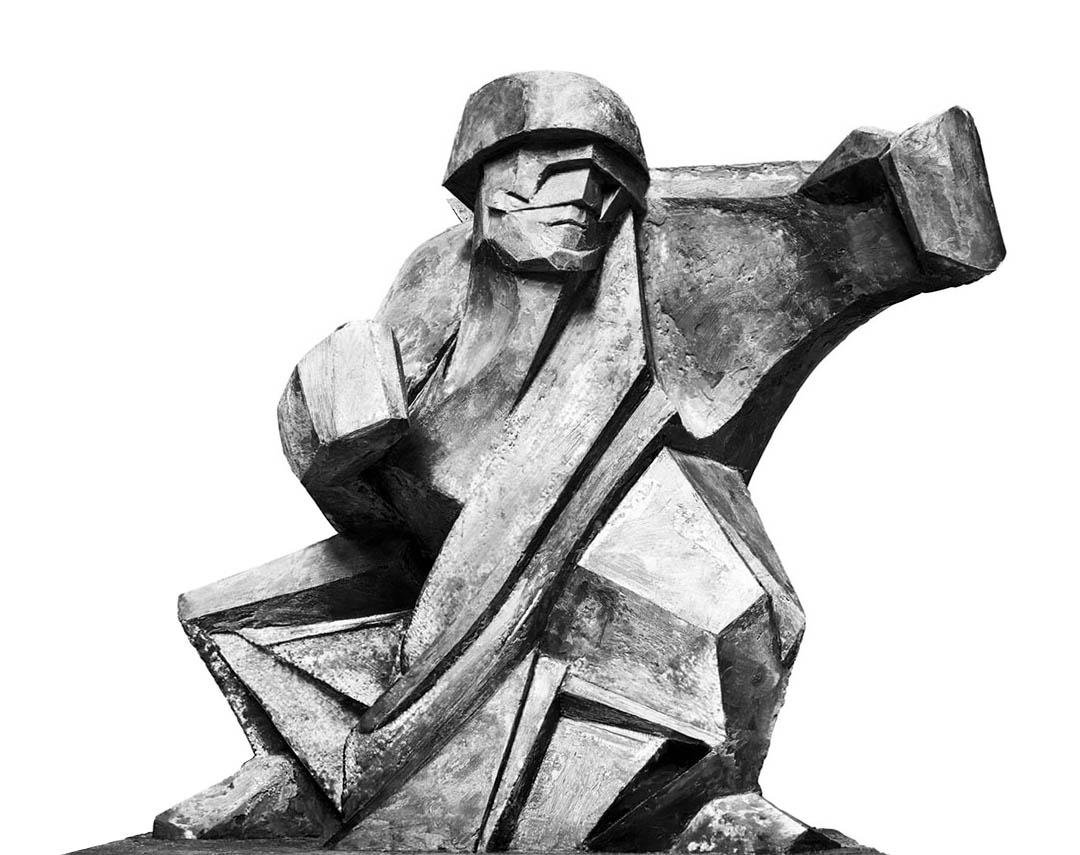 After a brief but fruitful one year study at the Glasgow School of Art, Scotland, I set sail for Antwerp in search of an Academy where I could learn the classics. By classics I mean the approach in which a Sculptor sculpts and a Painter paints.
I had a strong urge to learn a more tactile approach. I needed to get my hands dirty.  Something deep inside me was pushing me to learn how to carve stone, sculpt and weld metal together, these are the building blocks of Sculpture.
Thankfully The Royal Academy of Antwerp answered this need. For 4 productive years I studied the more traditional approach. I excelled and felt very much at home within the Flemish milieu .
Graduation day came and  I was immediately picked up by the Antwerp Gallery – Galerie Verbeeck – Van Dyck . I now lead a dynamic life between Scotland and Belgium which allows me to enjoy the best of both inspiring worlds.
Address
Tweemontstraat 42, Antwerp 2100, Belgium
Email
contact@fendevilliers.com